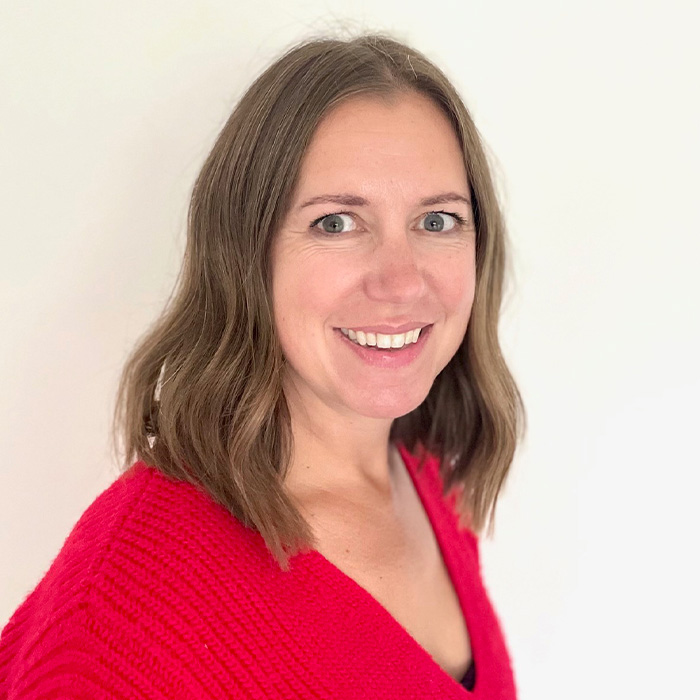 Gemma is Managing Editor at AIMed, with responsibility for engaging and growing the AIMed community and to highlight stories of health AI in action. An experienced science graduate with a background in veterinary and nonprofit sectors, she also volunteers as a Wish Granter for Make a Wish UK.
Genevieve LeMarchal, one of the shark tank judges at AIMed's Global Summit in San Diego on investing in AI that is enabling and empowering humans
Welcome Genevieve! Please tell us a bit about yourself and what bought you into this career.  
I have been an entrepreneur for as long as I can remember before I even knew what businesses and startups even were. I have always been curious about how and why things work a certain way and have had a can-do attitude. One day I read an article about how a science startup with an amazing breakthrough was trying to spin out of a university but was unable to obtain the funding. They needed $500k but because of their inability to raise it, their breakthrough would sit on the shelf. In the same feed, I read another article about a startup that raised millions of funding for something that I didn't think the world actually needed. They had burned all the money and were seeking another round of funding. I was so confused, and thought this was wrong so I decided if I was ever to become an investor (I didn't actually think that would ever happen), I'd want to fund things in science, health, and medicine that the world actually needs. That I'd figure out how to make money and make an impact. That was a revolutionary idea at the time. It was almost 10 years later and a very winding road journey when I actually found myself on the edges of the VC world and beginning to learn the ropes in VC, I eventually gravitated toward healthcare because I felt that I could make the biggest impact in the world with that specialty. I didn't have a background in medicine, engineering, a Ph.D, or anything. I had to surround myself with people who knew the industry and learn from them. 
As Managing Partner of Suncoast Ventures you invest in early-stage healthcare ventures worldwide. What particular applications of artificial intelligence in healthcare you are currently seeing that excite you the most?
 The areas of AI and healthcare that excite me the most are the areas that don't dehumanize patients or important human interactions in medicine, or take the human element of care away. I am really excited about AI that is solving real problems and enabling and empowering humans. I love to see innovation in the AI data stack itself because even the best AI is limited when it's operating within a silo, which is often the case at hospitals. And of course, the diversity of the data sets themselves and how the models are trained. I think generative AI is starting to expose to many people the downsides and pitfalls of improperly trained models. It's kinda funny and anecdotal if it's just a fun artwork generator, but it becomes much more dire when we consider the impact this could have on real human lives in medicine. 
How are you able to determine the impact that your investment is making? Is there a success story that you're particularly proud of?
As an investor, I have many masters I have to serve. First and foremost to society and the world to invest ethically and in things that will actually help people and the world and create abundance for all. However, of course, I am responsible to my investors to generate high returns and select the best mix of companies for us. So the simple answer is I am very numbers driven about the performance of the companies, their growth, and the economics of their funding rounds. One of my portfolio companies, BetterMeal AI is one I am particularly proud of. I call it "precision microbiome." It's incredible technology and breakthrough science, the tech is novel and the company is growing extremely fast, the investment is performing very well in our portfolio so far. But I am incredibly proud of the founder, Swathi Arulguppe- Nagendra and all that she has done, she's incredibly smart, coachable, hard-working, and resilient. I always feel most proud when we get involved very early and can actually help and make an impact like with BetterMeal AI.
What role do you see AI playing in the drive to address inequity in healthcare? 
I started my career as a journalist and learned that whenever you're trying to get to the bottom of something and it's just not making sense, follow the money and figure out who is getting paid and benefiting financially from the messed up arrangement. This has always been 100% correct for me. So in this case the payer systems, insurance companies, etc. are benefiting from inequity. So for AI, I think the low-hanging fruit is to integrate technology to help smooth out processes and inefficiencies. Healthcare tends to lag way behind in terms of the adoption of new technology, and I am really hoping that AI can help shorten this curve moving forward. I want to see AI immediately begin to make an impact on the payer side of the business to streamline efficiencies and processes. I think a lot of the inequity at play happens as a result of people getting lost and stuck (whether it's by design or inadvertently) in the payer systems, inefficient and incorrect billing, etc. Fixing these problems will have a domino effect in the industry. It won't fix it all but it'll be a fantastic start.
We were thrilled to have you on the judging panel for the shark tank at the 2023 Ai-Med Global Summit. What did you enjoy about the event?
I love coming to Ai-Med for many reasons. Of course I love to connect with my founders, colleagues, investors and friends in the industry and meet new future colleagues, investors, founders and friends. But I also like to pop into the sessions when I can and learn about how the end users are using AI in their work, what excites them, and what they are seeing as the industry evolves so rapidly. But most importantly, I get a lot of energy by being around innovation and seeing what people are working on and what new tech and breakthroughs are exciting to people. And of course, I used to live in San Diego and greatly miss it so it was great to come to visit!  
We see a lot of people in the Ai-Med community founding startups in the healthcare technology space. What advice would you give them?
I could write a literal book for them! And I just might one day. In the meantime I'd encourage them to listen to a few episodes of my podcast, Adventureous. Because entrepreneurship is first and foremost a personal journey of transformation and of the self. The other advice I'd give is in healthcare and medicine more than anywhere else, do your homework and talk to your customers, a lot of them! Do tons of research and homework with your actual target customers before you write a single line of code or raise a single dollar in funding. And then, make sure you have the right investors at seed, build relationships before you need the money. In this day and age, especially with AI, it's important to stay close to the problems and pain points and stay very close to the actual humans who you are creating technology for.
We believe in changing healthcare one connection at a time. If you are interested in the opinions in this piece, in connecting with the author, or the opportunity to submit an article, let us know. We love to help bring people together! [email protected] 
Genevieve LeMarchal is the Managing Partner of Suncoast Ventures where she invests in and supports smart, driven scientists, inventors, and entrepreneurs to help them achieve their vision. She was an entrepreneur herself with almost 10 years of start-up experience before coming to venture capital. Her focus is on healthcare tech, AI/ML and data applications, digital health, MedTech, and select opportunistic therapeutics and medical devices. Her portfolio is heavily weighted toward underrepresented entrepreneurs in health, and she focuses on investing in areas of high impact.