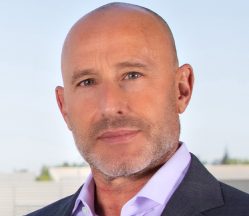 David Lubarsky, M.D., M.B.A., F.A.S.A.
Vice Chancellor, Human Health Sciences and Chief Executive Officer
UC Davis Health
David Lubarsky is the Vice Chancellor of Human Health Sciences and CEO for UC Davis Health. He oversees multiple top 50-ranked entities – UC Davis School of Medicine, Betty Irene Moore School of Nursing, UC Davis Medical Center, and the children's hospital. UC Davis Medical Center, a 646+ bed Level 1 Trauma Center is consistently ranked among the nation's best by US News & World Report and Becker's, and Sacramento's No. 1 hospital. UCDH has 16,000 employees, 1,000 physicians performing one million annual outpatient visits, 1,000 students, 1,000 GME trainees, with revenue of $4 billion.
Under Dr. Lubarsky's guidance, UC Davis Health, as Sacramento's only academic medical center, has cultivated regional partnerships and unique partnership models that improve the entire continuum of patient care. One notable win-win is how UC Davis Health has worked with Sacramento County to expand clinical services available to underserved communities, dramatically increasing the number of Medi-Cal beneficiaries in the region who can receive primary care and specialty care.
Since joining UC Davis Health in 2018, Dr. Lubarsky has recommitted the organization to expand underserved care while creating a sustainable economic model. He has also established groundbreaking partnerships with governments, entrepreneurs, technology companies and health systems to extend rural care, while enhancing service to Sacramento's urban core.
In 2019, Dr. Lubarsky was appointed by Gov. Gavin Newsom to the statewide Governor's Alzheimer's Disease Task Force. In 2020, Dr. Lubarsky was elected to the Board of Trustees of the California Medical Association, where he represents the 6,000-plus physicians of the University of California health systems. He was also named one of America's 100 Academic Medical Center CEOs to know in 2020 by Becker's Hospital Review.
A committed academic physician, Dr. Lubarsky has published over 100 peer reviewed publications, multiple books, and delivered hundreds of lectures. He is a UC Davis professor of anesthesiology and nursing, faculty member in the UC Davis Graduate School of Management Graduate Group, and national expert on behavioral economics in health incentive systems, pharmacoeconomics, health policy, and simulation-based optimization of high acuity, high resource use in hospitals. UC Davis Chancellor Gary May calls him a problem solver and change maker.