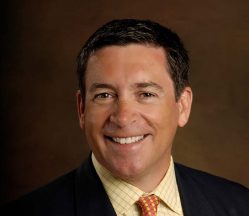 J. Michael Finley DO FACOI, FACP, FACR
Clinician - Educator
Health Service Alliance, Chino, California
J. Michael Finley DO is the inaugural Senior Associate Dean for Academic Affairs at the Kansas Health Science Center/Kansas College of Osteopathic Medicine (proposed), Wichita, Kansas. Dr. Finley received his undergraduate degree in microbiology and public health from Michigan State University and DO degree from Chicago College of Osteopathic Medicine, now Midwestern University. He completed internal medicine residency at Detroit Osteopathic Hospital in Highland Park, Michigan and a rheumatology fellowship at the Loma Linda University Medical Center in Loma Linda, California.
Dr. Finley retired in 2018 as Associate Professor of Internal Medicine and Associate Dean, Graduate Medical Education at Western University, Pomona, California after 25 years of service. During his tenure at WesternU, Dr. Finley served as Chief Academic Officer and ACGME Designated Institutional Official for OPTI – West Educational Consortium sponsor of 18 ACGME residency programs. While leading OPTI – West, Dr. Finley directed the development of more than 40 new residency training programs in California, Nevada, Oregon and Utah. He is past Chair of the COMP Department of Internal Medicine and was founding Internal Medicine residency program director at Arrowhead Regional Medical Center in Colton, California from 2004 – 2012. Dr. Finley is certified by the American Board of Osteopathic Internal Medicine in Internal Medicine and Rheumatology. He clinically specializes in adult rheumatology.
Dr. Finley is widely recognized as an exemplary educator and leader. He has previously served as a member of the faculty of UCLA School of Medicine, Loma Linda University School of Medicine and currently an invited lecturer at the UC Riverside School of Medicine. Dr. Finley was member at large of the American Osteopathic College of Internists Board of Directors and the Board of Directors of the Southern California Chapter of the Arthritis Foundation. He chaired the American Osteopathic Directors and Medical Educators Council on OPTI from inception in 2012 through 2016. Dr. Finley is a past at large member of the Board of Directors of the National Board of Osteopathic Medical Examiners 2010 – 2018. Dr. Finley served as a member of the United States Food and Drug Administration, Arthritis Advisory Committee from 2004 – 2006. In 2015, he was recognized as W. Douglas Ward PhD Educator of the Year by the American Osteopathic Foundation.
Dr. Finley divides his time between Wichita and Orange County, California where he lives with his wife Shelley, sons RJ and Casey and Black Labrador, Carley.