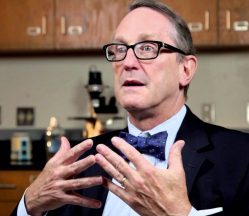 Randall Wetzel
Director of the VPICU
Dr. Randall Wetzel is the Chairman of the Department of Anesthesiology Critical Care Medicine at Children's Hospital Los Angeles, Professor (Tenured) of Anesthesiology and Pediatrics, Keck School of Medicine, University of Southern California, and the Director of The Laura P. and Leland K. Whittier Virtual Pediatric Intensive Care Unit (VPICU) at Children's Hospital Los Angeles. Prior to coming to CHLA, Dr. Wetzel held various faculty appointments in Anesthesiology and Critical Care Medicine at Johns Hopkins Hospital and University from 1981-1997.
After completing his undergraduate studies at Durham University in England, he went on to receive his medical degree from the Medical College of St. Bartholomew's Hospital, London University, England. He moved stateside for his pediatric residency, then fellowship training in Critical Care and Pediatric Cardiology at Rainbow Babies and Children's Hospital at University Hospitals in Cleveland, Ohio. He was subsequently a fellow in Pediatric Critical Care and Resident/Chief Resident in Anesthesiology/Critical Care Medicine at Johns Hopkins Hospital in Baltimore. Dr. Wetzel returned to England for a fellowship in Pediatric Anesthesia and Critical Care Medicine at the Hospital for Sick Children and Guy's Hospital in London. In addition, he earned a Master of Science in Business (Medicine) from Johns Hopkins University (1997). He moved to Los Angeles in 1997.
His current interests in medical informatics led him to develop the VPICU; a Southern California Critical Care Telemedicine Network; he is CEO and Chair of VPS, LLC a Quality Improvement and Data management company with over 120 hospital clients; and he leads a complex big data research team developing data extraction, management, architecture and advanced analytic techniques for highly granular Pediatric Critical Care Data. He has received over $18 million in federal and private foundation grant funding for these projects. He has served as a board member for The American Board of Pediatrics (2000-2003); Editor-in-Chief, the Society for Pediatric Anesthesia (1988-1995). He has authored 94 peer-reviewed articles and 45 book chapters, he is editor of Roger's Critical Care Medicine and Critical Heart Disease in Infants and Children; and has presented over 100 abstracts at various symposia.
Dr. Wetzel and his wife Ann have been married 34 years and currently reside in La Cañada, California. They have four wonderful daughters.