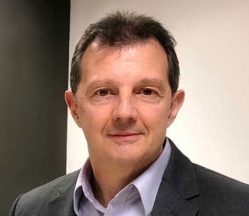 Steven Roesing, PE, HISP, CRISC
President and CEO
ASMGi
Mr. Steven H. Roesing is a seasoned IT Executive with over 20 years of experience in technology business management, M&A, engineering and project management for industrial control technology, information technology, information architecture, cyber-security, and emerging technologies.  His experience spans multiple industries, with a focus on Healthcare, Manufacturing, Financial Services, Legal and Higher-Education, for large and mid-market enterprises as well as startups.
Mr. Roesing is currently the President and CEO of ASMGi, a global provider of technology solutions.  His duties include strategic vision, corporate oversight and operational excellence.  In his own words, his teams are more engineers than scientists.  "Scientists invent new things, while engineers put them to use solving real world problems".  Through this lens, Mr. Roesing has architected operating models involving both proven, traditional technology, as well as emerging technologies where best-practices may not yet have matured.  Most recently, Mr. Roesing has launched Practical Innovation Labs, an operating model to assist enterprises with proving use cases for IoT, Edge Computing, Advanced Analytics, and AI/ML technology solutions.
Prior to ASMGi, Mr. Roesing founded and ran @industry, Inc., a Web technology company providing online marketplace, e-commerce, online catalogs, and information management solutions.  Before founding @industry, Mr. Roesing spent over 10 years in the process control industry, on large design/build projects for DuPont, BP and various steel manufacturing companies.
Mr. Roesing has a Bachelor of Science degree in Electrical Engineering and Applied Physics from Case Western Reserve University in Cleveland, OH.  He holds certifications as a Professional Engineer, Holistic Information Security Practitioner and Certified Risk and Information Systems Control professional.  He is a personal and/or corporate member or associate of various industry and topic specific associations including ISACA, IEEE, International Society of Automation (ISA), Cloud Assessor Assurance Program Oversight Board, Holistic Information Security Practitioner Institute (HISPI), Cloud Security Alliance (CSA), AI in Medicine (AI-Med), Center for Medical Interoperability and others.
Mr. Roesing has helped many of the world's largest companies, as well as startups in emerging technology to Plan, Manage and Execute auditable operating models for AI and Advanced Analytics including integration of cloud technologies, various AI and analytics stacks, security controls and edge computing platforms.
Regarding AI/ML innovation, ASMGi has observed that enterprises often make large investments without clearly defined outcomes or expectations.  Unrealistic or undefined expectations can lead to unrealized outcomes and wasted resources, including capacity and real dollars.

ASMGi's Practical Innovation Labs (PIL) is a "crawl-walk-run" model for innovation, that helps enterprises minimize financial risks by innovating "intentionally".  The program includes defining outcomes that are Predictable, Repeatable and Scalable, aligning with the crawl-walk-run phases of development respectively. 




Practical Innovation Labs is designed to help enterprises minimize their risks by clearly defining outcomes and defining the innovation project in phases that incrementally prove out the viability of an idea.  It includes defining operating models and parameters that are often left out of traditional approaches to innovation, particularly involving emerging technologies such as AI/ML.

Examples of Practical Innovation Labs AI/ML initiatives:

IoT / Edge Computing/Digital Twins:  AI use cases that ingest data from devices present unique challenges for centralized AI stacks due to the volume of data and limited network bandwidth and security controls where the devices are located.  Digital Twin / Edge Intelligence technology offers an opportunity to pre-process data and perform AI at the edge, limiting the amount of data that must reside in a central repository or data lake.  This approach can result in order of magnitude savings over traditional methods.  ASMGi is working with Edge Intelligence technology companies on use cases in smart cities, healthcare and manufacturing.




Cloud AI infrastructure and operations:  Many large public cloud providers, such as Microsoft, Amazon, IBM and Google, offer AI/ML stacks that include their own and/or specialized software for data storage and management, data acquisition, algorithms/models and visualization.  ASMGi is working with technology providers and customers to select appropriate platforms for the desired outcome and build operating models that consider governance, risk and compliance, core cybersecurity and operational requirements to run in production and/or at scale.