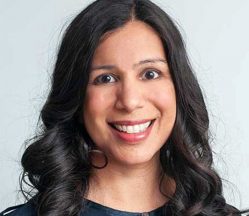 Ami B. Bhatt, MD, FACC
Chief Innovation Officer
American College of Cardiology
Ami B. Bhatt, MD, FACC, is chief innovation officer (CIO) of the American College of Cardiology, effective January 2022. In her role, Bhatt provides leadership and expertise in health care innovation and continues to grow the College's comprehensive Innovation Program in support of the ACC's Mission to transform cardiovascular care and improve heart health.
Bhatt has been a member of the ACC for nearly 20 years and a member of the ACC's Health Care Innovation Section, as well as the College's Lifelong Learning Oversight Committee. As an active clinical cardiologist, investigator and educator Bhatt brings nearly 10 years of experience in telemedicine and digital health to her new role. She founded her first program in virtual care in 2013 and continues to work on creating culturally relevant personalized virtual cardiovascular care delivery models. Her research has centered on identifying and implementing solutions to overcoming access barriers to cardiovascular and telemedicine care.
A graduate from Harvard College and the Yale School of Medicine, Bhatt completed her medicine and pediatrics residency at Harvard, her adult cardiology fellowship at Brigham and Women's Hospital and her adult congenital heart disease and pulmonary hypertension fellowship at the Boston Children's Hospital. She most recently served as the director of Outpatient and Telecardiology at the Massachusetts General Hospital (MGH) Corrigan-Minehan Heart Center. While ACC CIO, Bhatt will continue clinical practice at MGH in adult congenital heart disease and teaching as an associate professor at Harvard Medical School.